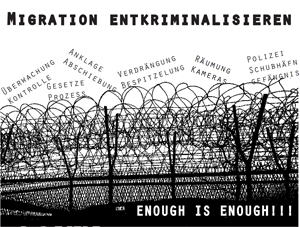 Aufruftext zur Antirepressionsdemo am 3.Mai, bitte weiterverbreiten und hinmobilisieren!
Invitation text for the antirepression-manifestation on 3th of Mai, please spread and mobilize for it!
german version below
3rd of May : Demonstration against repression
3 pm at Karlsplatz
Repression is everywhere. We are all affected.
The often silently appearing constraints and standardisation of the
capitalist society are repressive as well as the institutions, laws and
public orders, which should keep the existing structures. In a system
based on authority, repression is the logical consequence when persons
struggle against it and/or cannot/don?t want to/mustn?t be part of that
?normality?.
Solidarity is the tool, to contrast all of this!
There are also lots of actual causes in Vienna:
On the 6th of May the justice-spectacle against the 8 because of
?Schlepperei?/human smuggling accused Refugees is going to be continued
in Wiener Neustadt. This paragraph (FPG