By ronja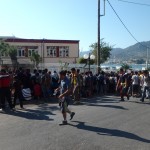 Around 20 000 Refugees are currently stuck on the Island of Lesvos.
Since one week, registration for new arriving refugees in Lesvos has become an obstacle to continue the procedures and leave the Island. Since Friday the situation in the Port of Mytilini has escalated.
Hundreds if not thousands of refugees from Syria, Iraq and Afghanistan are caught in limbo. Every day they try to fight for a registration number in the port. Most of them try up to 10 days to get a registration number with no success, they are forced to camp around the port, the city or sleep rough. Their money has finished and they suffer from hunger and thirst. Desperate, if not in rage due to lacking infrastructures and the absence of any system, they break out in daily protest and not seldom fights. The state shows its presence in form of riot police, beating down men, women and children alike.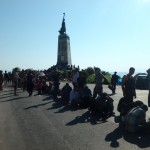 On Friday 4th of September hundreds of refugees tried to storm a ferry. The police threw tear gas.
In the following they banished all refugees from the port.
Newspaper Article about police violence in the port.
On Saturday 5th of September the …read more
From:: Lesvos