By palme43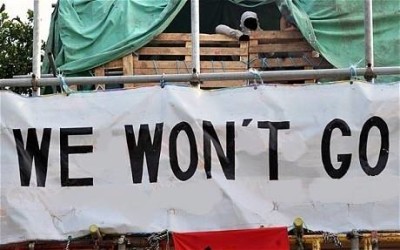 Just recently we learned from the press that Senat together with the Berlin districts published a list of places where so called "MUF" (modular shelter for refugees) should be built. The only place on this list where people are living is our home in Kiefholzstraße 74, where a lager should be built to force us to leave. Until now there was no direct communication with us.
While BIM – Berlin grounds and houses company (that is maintaining selling property of the state) is fighting against us for two years and trying to make us sign a contract with racist paragraphs that forbid refugees, rrom_nja and people without papers or with Residenzpflicht to come to our ground.
Radical queer wagonplace Kanal is not only our home but also a political project that is threatened with eviction right now. Kanal is a queer space with a majority of refugees, migrants, Black people, rrom_nja and People of Color who try to live together self-determined, based on on the uncrompromising fight against any kind of state power such as racism, classism, sexism, inter-trans-homo discrimination.
On wednesday, feb 24th at 4.30 pm there is the general assembly of …read more
From:: Berlin