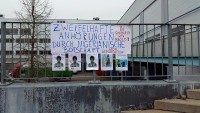 protest against the Nigerian Embassy Collaboration
Germany has always Capitalised on the stooge cooperation of Refugee Countries government to execute its racist culture to deport and enforce its massive exclusion policies.
Rise up and Join us in our struggle to fight against the German Colonial Deportation System.
One of such corrupt criminal practices is the ongoing deportation hearing at the Ordnungsamt – Olpe 1 in Dortmund (http://thevoiceforum.org/node/4113) that has continued to persist for decades now and all over Germany unabated.
In 2008, The VOICE Refugee Forum initiated a Nationwide campaign in Germany and Beyond to monitor and protest against the Nigerian Embassy Collaboration: "Another face of Colonialism"
The Nigerian Embassy delegates will be identifying Black Africans Asylum seekers and issue deportation documents to facilitate their deportation to Nigeria.
There has been confirmed cases of Asylum seekers like Joseph Doe (Gambian) and Santiago Camara (Sierra Leone) who were identified and issued deportation document that had facilitated their deportation to Nigeria. Video: https://vimeo.com/110095851
The same Nigerian Embassy Officer whose criteria of identifying the Asylum seekers by Physical appearance and Accent is expected to continue this dubious practice in Dortmund this week.
These hearings are organised in cooperation with Federal Police, Alien Offices and many other departments to make …read more
From:: Berlin