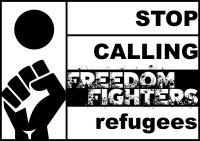 (english)
(deutsch weiter unten)
Activist of Refugee Struggle for Freedom released after 56 days in prison! / Another activist detained! / In Mühldorf deportation prison still one refugee in hungerstrike!
On Monday, 29.02.2016 Ali A., an activist of the Refugee Struggle for Freedom was released from jail. Two days later, on 02.03.2016 another activist of the group – Ali H. – has been put in prison.
Ali A. was taken on 05.01.2016 in the prison Landshut in custody. He was accused of resisting police officers and trespassing under protest. As an activist of the "Refugee Struggle for Freedom" Ali A. fought for the right to stay and against deportations, amongst other actions with a thirst strike in March 2014 in Dingolfing and with the occupation of the courtyard of the Federal Office for migration and refugees (BAMF) in Nuremberg in July 2014.
After his release, Ali A. commented:
"I was in prison for two months in Landshut because of the hunger strike in Dingolfing in 2014. It's really hard to live inside and I felt really bad because I did not do anything wrong. But I stayed strong and kept on fighting. After one month I had my court hearing in Landau but later I …read more
From:: Berlin