By momo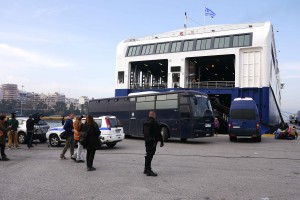 where to buy Ivermectin A witness account
We were traveling with the ferry Blue Star 1 from Mytilene to Piraeus on the 21.3.16.
As we entered the ship at 19.45 o'clock we saw an overcrowded bus entering filled with with sitting and standing persons. Outside media representatives and volunteers where watching the situation.
The bus on which was written EURORIDE on the front right side and which had the plate nr. PAZ1316 stopped inside the ship and we could see from a distance of 1 meter the people running handcuffed two by two up the stairs. We asked how many they are and someone from the crew said 150.
Around an hour later we had the opportunity to offer some water and chips to the detainees and saw that they still were hand cuffed to one another two by two.
Even if the government made an announcement that it was not handcuffs but plastic handcuffs we are sure that the police would never use plastic handcuffs if they were not sure that they are as effective as metal ones. Injuries of people having been handcuffed for hours with plastic handcuffs prove this around the world.
When the ship arrived in the harbour of Piraeus all passengers and cars disembarked among …read more
From:: infomobile greece