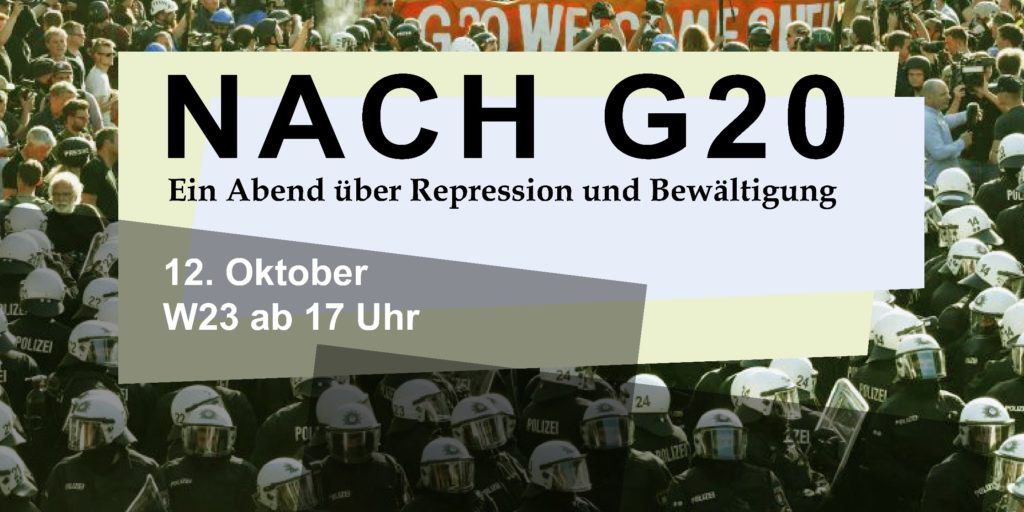 Die Proteste gegen den G20-Gipfel sind vorbei, die staatliche Repression dauert an. Prozesse starten, hohe Strafen werden verhängt, die erlebte Polizeigewalt ist noch nicht verdaut. Gleichzeitig werden linke Haus- und Medienprojekte sowie Geflüchtete stärker kriminalisiert denn je.
In einer solchen Situation wollen wir zum Austausch von Repressionsbetroffenen einladen.
Was können wir von dieser Leistungsschau des autoritären und repressiven Staates mitnehmen? Welche Herausforderungen kommen auf uns zu und wie können wir sie auch in Zukunft bewältigen?
Der freie Journalist Sören Kohlhuber war vor Ort und analysiert in seinem Vortrag die Leistungsschau des autoritären und repressiven Staates. Er wird berichten, wie er die Situationen erlebt hat und gibt sein Fazit.
12.10. Wipplingerstraße 23, 1010 Wien
Ablauf:
ab 17:00 Open Space: wir schreiben Postkarten an Repressionsbetroffene, die in Haft sitzen
ab 19:00 startet der Vortrag "G-20 Gipfel der Repression" von Sören Kohlhuber –> https://soerenkohlhuber.wordpress.com/
Es wird veganes Essen & Solicocktails geben.
Die Veranstaltung ist bis nach dem Vortrag rauchfrei.
Eine Veranstaltung von Freedom Not Frontex: Vienna & Freund_innen.
★ Die Veranstaltungen finden im Rahmen der Kritischen Einführungstage an der Uni Wien statt. Mehr Infos und das vollständige, laufend aktualisierte Programm findet ihr auf: https://krituni.noblogs.org/ ★
***
Die Veranstaltung findet in der W23 statt. Mehr Infos: http://www.wipplinger23.org/
Barrieren
Leider ist die W23 das Gegenteil von barrierefrei: Sie ist nur über steile Treppen zu erreichen und auch die WCs sind nicht rolli-tauglich. Wir können dafür keine befriedigende Lösung anbieten. Nicht-bauliche Barrieren bemühen wir uns abzubauen (z.B. sprachlicher Art), müssen aber zugeben, dass wir dabei auf Ressourcen-Grenzen sowie auf Barrieren in unseren Köpfen stoßen. Wenn der Zugang für euch schwierig ist, bitten wir euch, mit uns in Verbindung zu treten, damit wir uns gemeinsam Möglichkeiten überlegen können: freedomnotfrontex@systemli.org
At the most of our events the main language is German. If you would like to have an English translation during the evening just ask the people behind the bar and they will look for potential translators.