By frontera sur
En el salto del día 08-211-2.013 nos falta gente
By frontera sur El gobierno NaziOnal de España ha decidido volver a poner en las vallas de Melilla la concertina de cuchillas que se quitó en el año 2.007 y que tantos muertos y heridos produjo.
En este documento queremos recordar las consecuencias que tuvieron aquellas cuchillas y lo que veremos a partir de ahora cada día en nuestra ciudad.
By riva
To
The village of all together
Siniparxis in Aegeais
ERGATIKI LESXI – Workers Center in Mitilini
ERA AEGAIOU – Radio Era
Club of the fishermen of Thermi-Poseidon
3 whales who showed up shortly after the memorial in Thermi
The mayor of Mitilini
The administration of Tsamakia beach- ADEL
Hotel Votsala
Epimelitirio for giving the possibility to show the exhibition
Web for the printings
The boys from Agiassos
And all who have welcomed us on Lesvos and supported us in so many ways…
20th of October 2013
Dear people in Mitilini,
we have left the island – many of us with the feeling of having left a place where we all felt at home somehow. This feeling is mainly dedicated to all of you: without you this journey back to the border would have never been possible! We want to thank all of you. We will never forget the warm welcome you gave to us. We left with the feeling of a great experience and with a lot of strength for all coming struggles.
We left also with worries for all those we had to leave behind.
Our worries are with all those who are still imprisoned in the detention centre close to Moria. We wish all of them that they will overcome this horrible place …read more
From: Lesvos
By frontera sur

Las familias sirias con hijos concentradas en la plaza de España de Melilla han recibido una "citación oficial" de la Fiscalía de Menores para hoy a las 9:30 h. por unas diligencias policiales y para ser oídos en declaración. …read more
From: Melilla
By frontera sur
Es una guerra que ya se tuvo antes, una mala práctica erradicada, un tema que quedó solucionado. La extinción del permiso de residencia a los menores de edad al cumplir la mayoría de edad "por cesar las causas por las que se les concedió", es decir: la minoría de edad, es una práctica contraria al ordenamiento jurídico".
La Delegación del Gobierno en Melilla terminó reconociendo que esto era así y se sometió hace no muchos años a la recomendación hecha por el Defensor del Pueblo Español.
Desde hace algún tiempo, con los cambios políticos y de asesores en la Delegación del Gobierno de Melilla han vuelto las políticas más rancias y anacrónicas en temas de extranjería. No han cambiado las Leyes, lo que era contrario al ordenamiento jurídico antes debe seguir siéndolo ahora y sin embargo se vuelven a aplicar instrucciones contrarias a la Ley e inspiradas por el sector más anacrónico, almidonado y con olor a naftalina de la clase política de esta ciudad.
Caso a caso se está llevando el tema a los tribunales con la esperanza bien fundada de poder demostrar que la prevaricación y la corrupción en nuestra ciudad "no se da solo en lo económico" …read more
From: Melilla
By frontera sur
By riva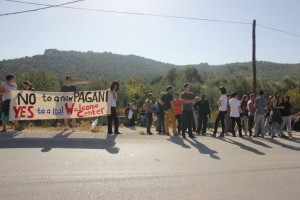 In front of the detention center. Copyright: Azadi
On Thursday we finally received the answer from Athens: With a short "no" the headquarter denied the access for "Youth without Borders" a selforganisation of young refugees who had applied at the Police Department Lesvos for an official delegation to visit the newly built detention camp on Lesvos close to the village of Moria. Many of us had been in the past imprisoned as well in what was called by a Greek minister "Dantes Inferno". This old detention centre Pagani had to be closed after we struggled all together from inside and outside shouting for weeks and months "Azadi! Freedom!" until the last refugees had been released in the end of 2009. The very short negative answer to our official application proves what we already knew before: on the old military base close to Moria they try to hide again an inhuman prison. The official plan to treat refugees on this island remains the same: to keep them behind barbed wire, isolated from the society. The only thing that has changed is the amount of money coming from the EU to finance it.
Also …read more
From: Lesvos
By frontera sur
El periodista local Blasco de Avellaneda (asesor de prensa de PRODEIN) sigue imparable su labor difundiendo la realidad que viven los inmigrantes en Melilla y su entorno. Blasco realiza esta labor sin sus herramientas habituales, las cuales, le fueron retiradas por la Guardia Civil tras la
detención ilegal que sufrió el 09-07-2013
cuando hacía su trabajo.
A pesar de tener una denuncia de la Guardia Civil, básicamente por dar información objetiva fuera de los límites impuestos por la censura a todos los asuntos relativos a la valla, Blasco sigue en su trabajo diario y en la defensa de las víctimas de los procesos migratorios.
Recientemente ha publicado estos dos artículos imprescindibles:
From: Melilla